Cherokee County, GA – Mayor and Wife Killed in Collision Involving a DUI Driver
Cherokee County, GA (December 12, 2022) – On December 10, according to the authorities, a multi-vehicle car accident that involved an impaired driver claimed the lives of the Mayor of Emerson, Georgia as well as his wife.
According to a press release from the Cherokee County Sheriff's Office, the Mayor was driving a Hyundai Santa Fe around 4:00pm in the Cherokee County area of northern Georgia when a Chevrolet pickup truck traveling in the opposite direction lost control, crossed the center line, and collided with the Hyundai. 
After that, the Hyundai overturned and collided with a GMC Savanna van. According to the sheriff's office, the driver of the pickup truck was also responsible for colliding with a Mazda 3.
The Mayor and his wife who was traveling as a passenger in the Hyundai, both died at the scene.
According to the sheriff's office, deputies arrested the driver of the Chevrolet pickup truck, a 50 year old male. He faces charges of driving under the influence, reckless driving, first-degree vehicular homicide and serious injury by vehicle.
Both of the drivers of the vehicles that were involved in the collision, a Mazda 3 and a GMC Savanna, were taken to the hospital for treatment of injuries that were not considered to be life-threatening. The sheriff's office reports that the at-fault driver was also hurt and transported to the hospital after the incident.
Residents of Emerson, a city with a population of approximately 1,500 people located 40 miles northwest of Atlanta, expressed their sorrow over the passing of their Mayor, who had served for 15 years, as well as the mayor's wife, whom they described as being another dedicated community leader.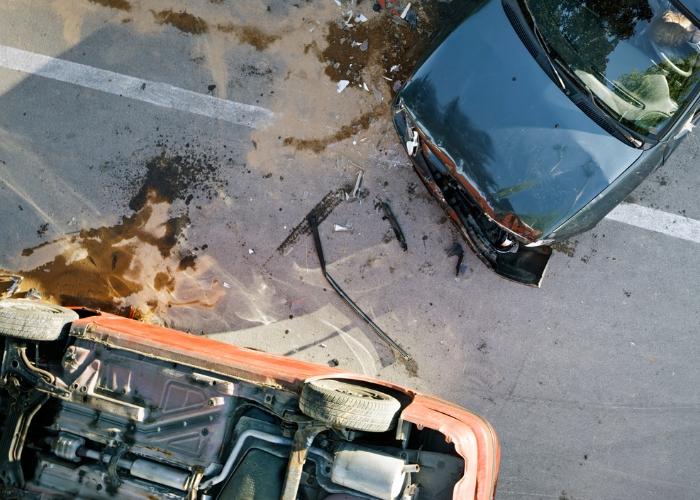 I met with Harry Brown personally and he sat with me for 20 minutes at our initial consultation to explain everything. He even called after my surgery to see how I was doing. I met with him several more times after that and was kept informed about my case throughout. I highly recommend Harry Brown as an attorney.
Drunk Driving Accidents in Georgia
More than 10,000 people lose their lives in traffic accidents each year as a result of drunk driving, and fatal drunk driving accidents occur at alarming rates in the state of Georgia.
Driving under the influence of alcohol endangers the lives of everyone involved, causing long-lasting pain and suffering. 
When a person gets behind the wheel of a vehicle while under the influence of alcohol and subsequently causes an accident, that individual is almost always held fully responsible for any damages and injuries that they caused to other people as a result of their actions.
Accident victims who were injured because of a drunk driver have the option of retaining legal counsel to assist them in pursuing financial compensation for damages such as medical expenses, lost wages, damage to their vehicles, and emotional distress.
If a drunk driver was responsible for the death of someone you care about, you should retain the services of a Wrongful Death Attorney to assist you in filing a claim against the driver who was negligent.
Even though no amount of money can bring a lost loved one back, the attorneys at our firm can assist you in filing a claim for financial compensation to help ease the burden of the increased expenses that accompany a death in the family.
An example of reckless behavior that continues to occur despite the existence of laws designed to discourage it is driving under the influence of alcohol. You don't have to go through the legal process on your own if an accident caused by drunk driving claims the life of someone you care about.
A lawyer who specializes in cases involving accidents caused by drunk driving can take care of everything for you.
Our team of Personal Injury Lawyers at The Brown Firm can assist you or a member of your family in obtaining compensation for losses brought on by the negligent driver.
To arrange a free consultation with one of our knowledgeable Car Accident Attorneys, call us at (800) 529-1441 right away.
Note: This post was built using information obtained from third parties, such as news articles and accounts provided by third parties with first-hand knowledge. The information on this accident has not been independently verified. If you discover any inaccuracies in the details, please let us know as soon as possible. We will modify the post so that it contains accurate information. 
Disclaimer: At The Brown Firm, we are continuously working to improve the quality and safety of our state and have been devastated by the consequence of many accidents. We seek to educate people in our community about these accidents in the hopes that it would encourage them to take precautions in the future to reduce the risk of major accidents. These posts should not be interpreted in any way that suggests that a business transaction is being sought. No part of this article should ever be considered professional advice in any field, including medicine or the law. We hope that those affected by these accidents will receive a rapid recovery.
Ready to Talk to a Lawyer Who Has Your Back?
Contact The Brown Firm
Get the Answers and Compensation You Deserve
You'll notice the difference when you contact The Brown Firm! Our local dedicated attorneys want to help you recover and rebuild.
Schedule your free consultation by calling (800) 529-1441 or completing our simple online form.