Georgia Truck Accident Lawyer
Hiring a Georgia Truck Accident Lawyer
On the interstates and highways, trucks are a common sight. These large vehicles play a significant role in our economy by transporting commodities between locations to suit the demands of our expanding population. Large trucks can be quite dangerous for drivers, especially when truck drivers are careless.
Truck accidents can leave victims with catastrophic injuries that can change their lives forever. Contact the Georgia truck accident lawyers at The Brown Firm today if you were hurt in a truck accident and want to receive maximum compensation in your truck accident claim.
Below we will go over everything you need to know about Georgia Truck Accidents.
The Brown firm has taken good care of me throughout both of my accidents in the past 5 years. I could name several people I would like to thank but the truth is every member across the board of The Brown Firm has outstanding customer service and will help you find out all the information you need to know about your case. And if they do not have the answers they point you in the direction of someone who does. I pray I never have another accident, but if I do I know I can count on The Brown Firm.
What Causes Truck Accidents?
Truck accidents can result from the same issues that cause car accidents.
Similar issues include:
Vehicle malfunctions
Poor roadway maintenance
Poor roadway design
Driver negligence
Distracted driving
Driver negligence can come from either the truck driver or the driver of another car that causes the commercial truck to crash into other vehicles.
Truck accidents are commonly caused by the following types of negligence:
Speeding
Disregarding posted traffic rules
Driving while under the influence of drugs (including prescriptions)
Drunk driving
Poor vehicle maintenance
Drowsy driving
Aggressive driving
Distracted driving
If you were in a semi – truck accident as the result of any of these actions, you might be able to file a truck accident lawsuit. All truck accident victims should speak with a personal injury law firm.
Types of Commercial Vehicle Accidents
Accidents involving commercial vehicles can happen in many different ways. Rear-end truck accidents are the most common.
Other common collisions involving commercial vehicles are:
Rollover Accidents
Rear-End Accidents
Head-On Collisions
T-Bone Accidents
Jackknife Accidents
Wide Turn Accidents
Blind Spot Accidents
Lost Cargo Loads
Tire Blowouts
Common Injuries Caused By Truck Crashes
Common injuries sustained in truck accidents include:
Traumatic brain injuries

(TBIs)

Spinal cord injuries

Rib and torso injuries

Broken bones

Whiplash
Internal injuries
Disfigurement
Cuts, bruises, lacerations
Amputation
Burns
Paralysis
Back and

neck injuries
Who Can Be Responsible in a Truck Accident Case?
Technically, you can sue anyone who caused your truck accident. The good news is that you typically have to sue someone to get the money you deserve. With the help of a truck accident lawyer, you can file a claim for personal injuries and try to settle with the insurance company of the at-fault party.
The at-fault party in a truck accident case is a person or entity that was negligent in the accident. There are several potentially liable parties in a commercial truck accident, including:
The truck maintenance provider
The

truck driver

Another motorist
The

cargo loading company

The

trucking company

A parts manufacturer
Being involved in a commercial vehicle accident in Georgia can be devastating. It is important to get help from a lawyer with a lot of experience in truck accident law and a track record of success.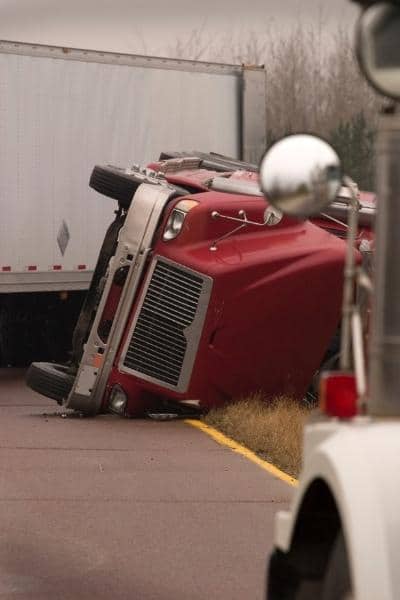 Damages Available to Georgia Truck Accident Victims
If you were hurt in a tractor-trailer accident with a large truck, you may be able to get compensation for damages. Damages are the money you get to pay for things like medical bills, lost wages, and even pain and suffering. There are two types of truck accident damages; economic and non-economic damages.
Economic Damages
Special damages are another name for economic damages. You have to prove them in order to get money back from your claim, and most of them have a set amount.
Most of the money from a truck accident claim goes to cover medical bills.
Examples of medical expenses are:
Future medical care
Prescription medicines
Emergency medical expenses
Physical therapy or other long-term treatment
Hospital stays
Doctor visits
Emergency care
You will need to keep track of your medical bills and receipts and be sure you do everything your doctor tells you to do. This includes not missing any appointments. If you don't keep up with your treatment, the insurance company might use that against you and give you less than fair compensation.
More examples of economic damages are:
Lost Wages: Your truck accident injury might force you to miss some time from work. To get this covered in your settlement, you will need to keep track of all of your medical bills and receipts. 
Loss of Earning Capacity: If you can't return to work in the same capacity as before the truck accident because of your accident injuries, you should be able to collect "loss of earning capacity" damages.
Property Damage: You can include property damage in your claim if the accident totaled or damaged your car. Property damage also includes things like belongings or electronics that were damaged in the traffic wreck.
Non-Economic Damages
Non-economic damages are also referred to as "general damages." They can't be shown through bills or receipts like economic damages can.
These damages pay for the accident's effects on the victim's body and mind, such as mental pain, disfigurement, fear, or anxiety. Since it is hard to figure out how much your non-economic damages are worth, you will need the help of a lawyer.
Calculating Damages After Your Georgia Truck Accident
A great reason to work with an experienced lawyer is that they will know how to calculate fair compensation for your case.
Medical costs and lost income are pretty simple examples of damages. They are objective, which means the calculation is based on how much you paid out of pocket. Mental anguish and pain and suffering, on the other hand, are very hard to put a dollar amount on because they are very personal and subjective. There are no caps for pain and suffering in Georgia.
Most of the time, these damages are decided during settlement talks with an insurance adjuster or by a trial jury. They take into account your physical pain, mental suffering, and loss of enjoyment of life caused by the liable party.
Damages Following a Fatal Georgia Truck Accident
Don't forget that the dependents and spouses of a victim who has died can also get compensation for wrongful death. Wrongful death damages are meant to make up for the lost income the victim would have made during his life and pay for funeral and burial costs.
They may also cover medical care costs that accrued before they passed or less objective things, like the loss of a companion.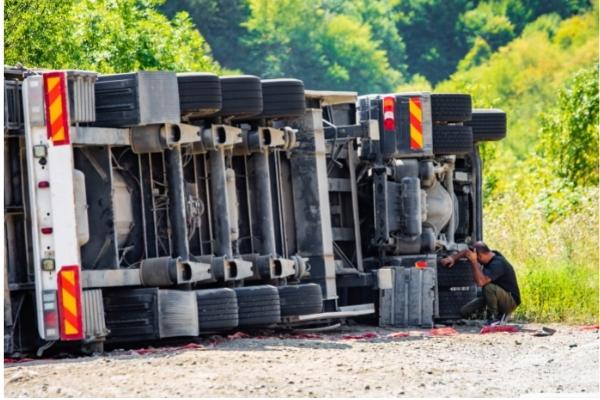 Negligence Unique to Truck Drivers
There are some types of negligence unique to truck drivers and the companies that employ them.
They include:
Overloading Trucks: When a truck's trailer is too heavy for its tractor to pull, it can fall over or get separated from the tractor.
Dangerously Drowsy Driving: Truckers often drive when they are too tired to do so safely. Quotas and deadlines can force truck drivers to go beyond their safe driving limits. The Federal Motor Carrier Safety Administration sets rules for drivers about how many hours they can work and how many days they can work, but they aren't always followed.
Poor Truck Handling: Commercial trucks are much bigger and longer than passenger cars, so they have to be driven differently. If a truck driver speeds up or doesn't keep a safe distance from other cars, it makes it more likely that they will cause an accident.
For Maximum Compensation, You Need a Truck Accident Lawyer
Our truck accident attorneys have extensive experience and can go over your legal options if you were injured in a Georgia truck accident. Big rigs, tankers, tractor-trailers, and 18-wheelers are extremely massive vehicles that can cause catastrophic and fatal injuries.
Trucking companies are bound by strict regulatory restrictions when it comes to operating their rigs. This includes things like driving education and work schedules. When a truck causes an accident, the driver, the trucking company, or the cargo loading company may be held liable for any injuries or property damage that occurred. Our personal injury lawyers can investigate whether any of these trucking industry federal regulations were broken to prove culpability.
If you are contacted by an insurance company representative or a corporate representative following a semi-truck accident, do not sign anything or provide a statement without first speaking with a trucking accident lawyer. Failure to do so could result in insufficient compensation for damages.
Trucking firms have a variety of options for protecting themselves after an accident. A trucking company will retain its own legal counsel to negotiate for the lowest possible truck accident settlement. This is why it is vital to enlist the assistance of a truck accident attorney.
A truck accident case can be difficult to resolve. An accident lawyer can help you prove that the tractor-trailer accident was caused by the driver's negligence. An experienced attorney can investigate your case, gather evidence, and prove that a negligent party was the cause to help you get the financial compensation you deserve for your injuries.
If you were injured in a truck accident, click the link below for a free consultation with one of our experienced attorneys at The Brown Firm. Our truck accident lawyers offer determined and resourceful legal representation.
If you or a loved one were injured and need help, our lawyers will be at your side every step of the way.
Fill out our simple online contact form or call our office at (800) 529-1441.
Ready to Talk to a Lawyer Who Has Your Back?
Communities Our Truck Accident Lawyers Serve Throughout Georgia
Contact The Brown Firm
Get the Answers and Compensation You Deserve
You'll notice the difference when you contact The Brown Firm! Our local dedicated attorneys want to help you recover and rebuild.
Schedule your free consultation by calling (800) 529-1441 or completing our simple online form.