Car Accident Lawyer in Clarkston, GA | Injured in an Auto Accident in Clarkston?
Should I Hire a Car Accident Lawyer in Clarkston?
We Go Above and Beyond for Our Clients
If you've been hurt in a motor vehicle accident in Clarkston, you deserve adequate compensation.
But there's more to a car accident legal claim than just litigation and negotiations. We understand that you're also recovering physically and emotionally.
Here at The Brown Firm, we go above and beyond what you might expect from an auto accident lawyer. We have over 30+ years of combined experience protecting the injured.
While your auto accident claim's success is our top priority, we're also here to help you recover. We will be there for you with outstanding customer service if you need assistance scheduling an appointment with a medical professional or understanding the details of your diagnosis and how it plays into your accident lawsuit.
Our Clarkston law firm is dedicated to our clients and will not back down against the biggest insurance carriers. You can count on us to fight for you and your family whether we settle your auto accident claim with a trial or out of court.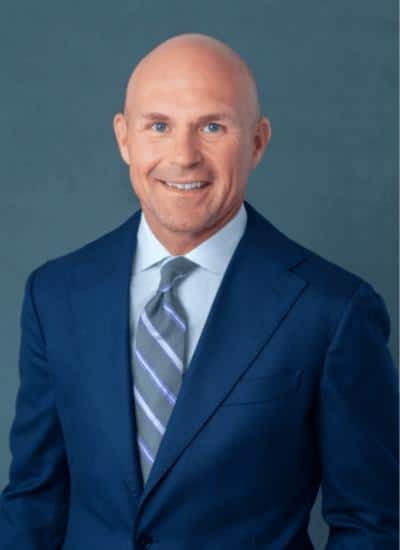 What You Should Do After Being Injured in a Car Accident in Clarkston
If you've been involved in a motor vehicle accident in Clarkston, you need to seek medical care as soon as possible.
Seeking medical care right away gives you the best chance to make a quick physical recovery from your injuries. And if there is any possibility you will make a personal injury claim against the liable party, you need to get treatment right away, so the claims adjuster is more likely to give you a fair settlement.
Having medical records created immediately after the accident, in addition to an accident report, will force the claims adjuster to take your personal injury lawsuit seriously.
Even if you were in a minor car accident, you may go on to suffer permanent injuries requiring months, or even years, of medical treatment if you don't see a doctor immediately.
Don't Speak to Insurance Adjusters
The other driver's insurance company adjuster will likely contact you.
You are not required to give any statements to an insurance adjuster without first speaking to a personal injury lawyer. The insurance company of the negligent party wants to give you as little financial compensation as possible or deny your claim entirely.
The insurance agent will ask you questions designed to elicit answers that will minimize your recovery or allow them to argue you were also negligent. Giving a statement to any insurance representative could hurt your case in ways that can't even be fixed by an attorney.
Even when the police are preparing their police report, don't say anything you don't need to. Tell them the facts and let your experienced lawyer handle the talking.
Contact an Experienced Car Accident Attorney
Everyone has legal options if they have suffered damages in an auto accident.
Clarkston auto accident attorneys can help you receive fair compensation in a personal injury claim for all types of accidents. Even in a seemingly minor rear-end accident, you should always take advantage of a free consultation with an expert in car accident injury law. This will help you avoid being taken advantage of by the insurance providers.
When you hire an injury lawyer, they will handle every aspect of your car accident injury claim. They will explain the legal process and everything you are entitled to recover. They will ensure you get your car repaired, help you get a rental car through your insurance policy, help you get fair compensation, and ensure the responsible party is held accountable.
We will also help you find the most qualified doctor who is best suited to treat your specific injuries.
What Are the Common Auto Accident Causes?
Getting Distracted While Driving
In most cases, distracted driving is almost entirely preventable, which is alarming considering the statistics on distracted driving. In the United States, distracted driving is considered a major public health problem. Distracted driving, like texting and driving, can cause reduced reaction times, inability to maintain lane compliance, and catastrophic accidents resulting in serious injury and death. When a negligent driver looks at their phone while driving, everyone around them is at risk.
When a car accident is caused by bad weather, many people wonder how they can receive compensation. Mother Nature cannot be sued, but a driver who rear-ends someone in dense fog is still responsible for the accident.
Bad weather conditions call for caution behind the wheel. If there is a torrential downpour, a road that is safe to drive at 60 miles per hour may be dangerous at 30 miles per hour. All drivers must take extra precautions when driving during bad weather to avoid accidents, no matter how experienced a driver you think you are.
Driving after dark increases your risk of an accident, which is unknown to many people. You may have trouble seeing what lies ahead or what is coming at you from the side. You must be more aware when driving in the dark.
Other complications with driving after dark:
Drowsiness
Falling asleep behind the wheel is more common at night. A drowsy driver may veer into another lane, toward the median, grass area, or curb.
Drunk Driving
More drunk driving accidents occur from 12 am to 3 am than any other time.
Fatal Accidents
Fatal crashes are four times higher at night than during the day
Have you ever been cut off by someone? Most drivers have. When changing lanes, leave yourself enough space to pass another vehicle. Do not pass if there is not enough space.
You should pay close attention to either side of your vehicle before changing lanes and use your blinker to let everyone know you are moving over.
If you aren't familiar with an area, you need to pay attention to street signs as well as your surroundings. Highway ramps are the most common areas for wrong-way drivers. Other drivers tend to not be on the lookout for wrong-way drivers and often react too late when they encounter them.
Other common causes of wrong-way driving are:
– Drunk Driving
– Texting
– Distracted Driving
– Driver Fatigue
– Inadequate or Confusing Traffic Signage or Traffic Control Devices

– Poor Interchange Design
Improper turning causes thousands of auto accidents every year. Common causes of improper turns include:
– Being in the incorrect lane when approaching an intersection.
– Turning when there is a "No Turn On Red" sign.
– Not coming to a complete stop or yielding to traffic or pedestrians at a stop sign or red light.
– Turning without having the right-of-way
– Making a left at a red light when it is not permitted.
– Turning without signaling.
If you find yourself in a situation where you are in the wrong lane and cannot change lanes without causing an accident, you can drive around the block, or turn around in someone's driveway or a public parking lot.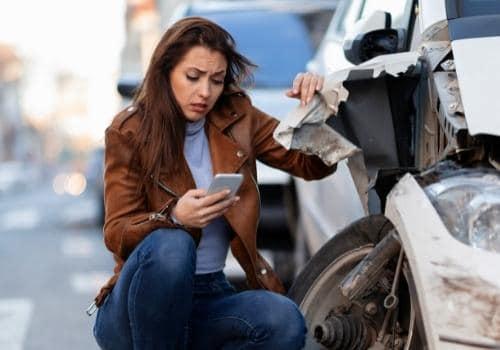 The Most Common
Types of Car Accidents
Every collision is unique. There are patterns to how crashes occur, and being aware of them could help you avoid an accident.
Rear-End Collisions
Head-On Collisions
Side-Impact Collisions
Sideswipe Accidents
T-Bone Accidents
Multi-Vehicle Accidents
Single-Vehicle Accidents
Blind Spot Accidents
Injuries That Can Take Time To Appear After a Motor Vehicle Accident
Something that doesn't appear to need immediate medical treatment can become highly problematic in the days and weeks ahead.
Whiplash
Brain Injury
Concussion
Head Injury
Emotional Distress
Spine Injury
Spinal Cord Injury
Internal Bleeding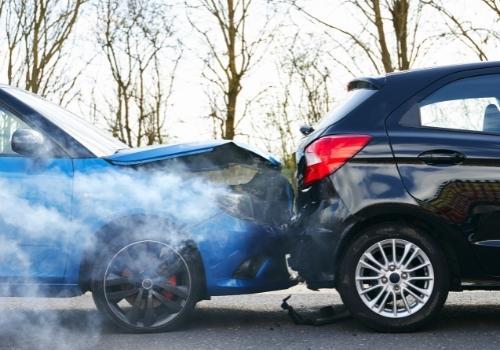 What Should You Do After a Car Accident in Clarkston?
Make Sure You and Your Vehicle Are Safe
You should drive your car to the side of the road if you aren't hurt and the car accident was a minor. To alert other drivers to slow down, turn on your emergency lights and set up flares or reflective emergency triangles, especially if it is dark outside. Be extra careful when getting out of your car, especially if the accident happened on a busy highway.
If the accident was severe or anyone is seriously injured, the vehicles should be left alone. Get out of your car if you can, and to safety on the side of the road. 
Despite the importance of reporting an accident, some police departments may not respond to minor accidents that do not involve injuries. Some police departments are moving away from dedicating resources to the accident scene and instead are relying on online reporting.
Note the name, badge number, and contact information of any police officers who arrive. Ask the officer how you can obtain a copy of the accident report. The law enforcement office or the insurance adjuster handling your claim may be able to provide you with a copy of the report if the police do not come.
Take Note of Important Details
Get the name, address, phone number, and driver's license number of all people involved in the accident with a pen and paper or with your cellphone camera. Determine the relationship between the driver and the owner of the car if the name on the registration or insurance papers does not match.
Once all the vehicle information is gathered, gather the year, make, model, color, license plate number, and VIN. Please provide your policy number and the company's telephone number. Get contact information from any witnesses and details about what they saw.
You should never give out your Social Security number, your insurance policy limits, or any other personal information.
Obtain a Tow Truck if Necessary
The extent of the damage to your car may necessitate towing it to a collision repair facility. Roadside assistance is a perk often provided by motor clubs. The police might call a towing company, and some automobile manufacturers offer driver assistance programs.
Check credentials and take down the contact information of any tow truck that appears at the scene.
Get in Touch With Your Insurer
Even though it is tempting to negotiate a cash deal to avoid making an insurance claim, failing to notify your insurer after an accident can leave you liable for the damages resulting from the accident.
Your insurance professional can determine whether your policy covers damages if the other person has insufficient coverage.
If you are deemed to be not at fault, your insurance company may waive your deductible.
Seek medical attention immediately. Some injuries aren't apparent until after a day or two after an incident, so you may feel fine initially. It is possible to sustain serious head or spinal injuries from a minor impact, so seek medical treatment if you experience pain or unusual symptoms.
It is important to document any physical harm caused by an accident since they will usually be included in your auto insurance claim, personal injury claim, or injury settlements.
The degree of your financial compensation may also rely heavily on your medical assessment. Some injuries are permanent and can lead to lost income. Having a lawyer is extremely helpful when you are dealing with accident injuries. A law firm will usually offer a free consultation or a free case evaluation to go over details such as these.
Contact an Experienced Auto Accident Attorney
After an auto accident, contact an experienced attorney to handle your case. The Brown Firm is well-versed in all types of motor vehicle accident law, whether it be a car accident, semi-truck accident, or motorcycle accident. We know the pain and suffering these accidents can cause.
Getting the right representation is crucial to winning your case. Our legal team will get you the fair compensation you deserve.
Ready to Talk to a Lawyer Who Has Your Back?
Trust The Brown Firm With the Heavy Lifting and the Small Details
Our auto accident attorneys remain focused on your case to secure maximum compensation from the at-fault party. We treat families with compassion while staying aggressive with the insurance companies.
You're already carrying so much; let us do the heavy lifting. No detail is too small for our accident attorneys. If you need help understanding your medical expenses, assessing property damage, or getting to a doctor's appointment, we'll help with that too.
Frequently Asked Questions About Clarkston Car Accidents
After an accident, it's normal to have a lot of questions. Unfortunately, it's nearly impossible to get clear, honest information from the insurance company.
Here, our auto accident lawyers answer some of your most common questions.
What Does a Car Accident Lawyer Do?
If you've been injured in a car accident in Clarkston, you may be wondering if you should hire a car accident lawyer. Experienced car accident attorneys can help you get the money you deserve for your injuries. They can also help you file a claim and handle all of the legal paperwork.
An auto accident lawyer will review and investigate your case to determine fault and the potential financial value of your accident claim. They can also deal with the insurance companies and set you up with trusted doctors in your area, so you can focus on recovering.
Do I Need a Car Accident Attorney?
If you have experienced a motor vehicle accident, getting a personal injury attorney to help you with your accident claim increases your chances of getting maximum compensation.
Many car accident victims do not get to pursue their car accident claim because they are unsure of what to do after an accident. Car accident claims can get complicated, especially when the insurance companies get involved.
The best Clarkston auto accident lawyers will make sure that you get the support you need. Whether you are fighting a minor or major car accident case, your legal team will provide what is needed.
They will deal with medical records, police reports, and insurance companies. They will also total up your compensation for property damages, current medical bills, and future medical expenses.
Personal injury lawyers, especially those experienced in car accident settlements, know how to best present your case to a judge. There are many different types of accidents related to car accident law. Whether you were the victim of a rideshare accident, truck accident, commercial vehicle accident, hit and run accident, bicycle accident, bus accident, pedestrian accident, drunk driving accident, or motorcycle accident, you will get the best representation in Clarkston, Georgia.
How Much Does a Car Accident Lawyer Cost in Clarkston?
With other types of claims, lawyers charge an hourly fee for their services. When it comes to personal injury claims, our Clarkston car accident lawyers work on a "contingency fee basis." The Brown Firm does not charge any auto accident attorney fees, but your attorney will receive a percentage of the final settlement. Your attorney is not paid unless your case is won.
The percentage Georgia lawyers receive in a contingency fee agreement varies but is typically between 25 and 40 percent, with 33 percent being average. For instance, if your car accident case settles for $90,000, your attorney will receive around $30,000.
Depending on whether the case goes to trial or you settle in mediation, the contingency fee percentage can vary. The percentage may be lower if the case settles before going to court.
You should always discuss the contingency fee with your attorney and review your contract for legal services carefully. Consult your attorney if you do not understand the fee arrangement outlined in the agreement.
Contract fees are also negotiable, just like everything else. It may be feasible to negotiate a lower contingency percentage if your case is "cut and dry," the defendant has plenty of car insurance, your damages are clear, and you have ample evidence supporting your claims.
What Are the Most Common Car Accident Injuries?
Even a minor auto accident can still cause injuries. Back pain, neck pain, whiplash, lacerations, and burns can all occur if the car accident was minor.
Traumatic brain injuries, broken bones, concussions, spinal cord injuries, internal bleeding, burns, muscle tears, and limb loss are all possible after a major car accident.
People seeking compensation from these traumatic events often have to go through a lengthy treatment process to get the compensation they deserve. With the help of a lawyer, your economic and non-economic damages will be taken care of.
Auto accidents can also lead to expensive medical bills. This is why you need to seek assistance from an experienced attorney. Legal representation is recommended for you to recover a fair settlement against the at-fault driver.
Our Clarkston attorneys know exactly what you need to win and will gather as much evidence as they can. They will review the police report, examine the accident scene, gather witness statements, gather evidence, and review your medical records. Our team will handle the insurance company and connect you with a medical professional if you have sustained injuries.
Contact The Brown Firm
Get the Answers and Compensation You Deserve
You'll notice the difference when you contact The Brown Firm! Our local dedicated attorneys want to help you recover and rebuild.
Schedule your free consultation by calling (800) 529-1441 or completing our simple online form.