Georgia Pedestrian Accident Lawyer
What You Need to Know About Georgia Pedestrian Accidents
Representing Pedestrian Accident Victims Across Georgia
Pedestrian accidents happen rather frequently. On average, 15 injured pedestrians pass away every day nationwide.
Victims of crosswalk injuries frequently don't know what to do, what their rights are, or what caused the accident.
Not to worry. The Brown Firm's accident lawyers can respond to your questions, protect your legal rights, and assist you in filing a pedestrian accident claim once you've received medical care.
Our Georgia team has worked on personal injury cases for over 30 years, including pedestrian accidents and hit-and-run accidents.
I was rear-ended and didn't know what to do, but I searched for a Car Accident Attorney in Atlanta and found The Brown Firm. They walked me through everything and made sure I was taken care of during the whole process.
Types of Pedestrian Accidents
It doesn't take a genius to understand that pedestrians involved in collisions are likely to sustain serious or catastrophic injuries. Even a collision with a car going ten miles per hour might result in paralysis or even death, depending on how the pedestrian lands.
All collisions involving a car, truck, or motorcycle where a pedestrian is involved are risky, but the following are the most frequent ones our accident lawyers have observed:
Dart-Out Accidents – These accidents might happen if a pedestrian darts onto the road before the vehicles have time to react. However, sometimes the pedestrian isn't to blame for these incidents. For instance, if a driver's view is obstructed but a pedestrian uses a marked crosswalk, it might look like the person suddenly stepped out onto the road.
Intersection Accidents – Pedestrian accident victims sometimes try to cross intersections where automobile drivers would have no time to react.
Passing Accidents –If a careless motorist fails to detect pedestrians because a bus or other vehicle has stopped so they can cross the street, a passing accident may occur. When this happens, the driver may hit a pedestrian as they attempt to pass the stopped car (often illegally).
Vehicle Turn and Merge Accidents – When a driver is concentrated on making a turn or merging into traffic, accidents like these occur. Drivers scan both lanes for other vehicles but fail to notice pedestrians until they have already begun to turn or merge.
Vendor Accidents – Vendor accidents typically happen on neighborhood streets when people wait outside of a delivery or food truck.
Back-Up Accidents – Back-up accidents occur when a driver hits a pedestrian backing up without glancing behind the car.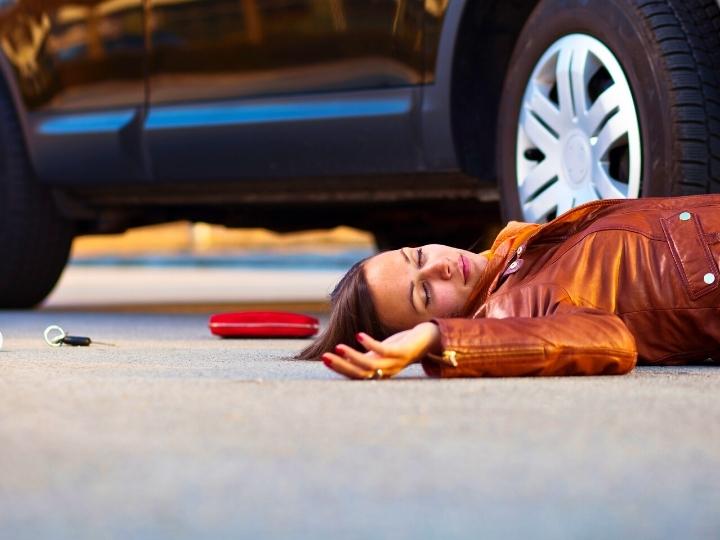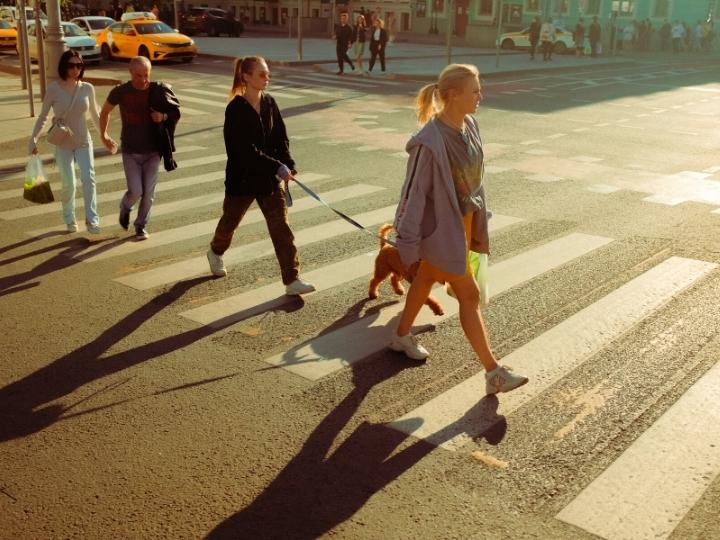 Common Reasons Crosswalk Accidents Occur
Unfortunately, even on clearly indicated crosswalks, pedestrian accidents can occur. Catastrophic injuries are frequently the result of these traffic accidents.
The following are the most common causes of crosswalk mishaps:
Distracted Driving: Many pedestrian accident lawsuits are due to distracted driving. Drivers could be on cell phones, eating, or looking at something else around them and never see the pedestrian or miss a traffic signal.
Drunk Driving: A pedestrian who is hit by a drunk driver can sue because the driver was negligent. In the majority of cases, the pedestrian will get compensation for all losses originating from the accident. If the pedestrian dies as a result, the representatives of the pedestrian's estate can sue the intoxicated driver in a wrongful death lawsuit.
Engineering Issues: If an intersection was not well thought out, or stop lights are malfunctioning, there is more chances for accidents to occur.
Drivers Not Following Laws: Speeding and breaking other traffic laws are common causes of pedestrian accidents. It's also illegal for drivers to drive around or cut off a pedestrian in a crosswalk, even if there's room.
Pedestrians Not Following Crosswalk Signs: Don't cross if the crosswalk symbol says "no walking," no matter how much of a hurry you're in.
Using Crosswalks Safely to Avoid Pedestrian Accidents
Georgia state laws governing pedestrians don't explicitly mention jaywalking. Crossing almost anywhere is generally permitted, and pedestrians have to yield to oncoming vehicles.
At intersections and crosswalks, pedestrians must obey the signals and yield to oncoming traffic. Additionally, they must never cross diagonally at a junction unless it is a diagonal crossing (scramble crosswalk).
Like a yellow light when driving, you can continue crossing if the symbol is blinking. Cars have to wait until you've finished crossing. You shouldn't begin walking if the signal is already blinking.
Serious Pedestrian Injuries
Because your body cannot withstand the force of a moving car, pedestrian accidents are frequently traumatic, requiring extensive medical attention.
The injuries from accidents are frequently severe, if not fatal, leading to high medical costs or even wrongful death.
The following are typical injuries sustained by a pedestrian struck by a car:
Paralysis or Spinal Cord Injuries (causing a loss of function)
Broken Bones
Damage to the Musculoskeletal System
Lacerations and Bruises
Organ Damage
Concussions
Traumatic Brain Injuries
Dental Damages
Vision Loss
Disfigurement
Pedestrian Fatalities
Pedestrian accident victims that suffer catastrophic injuries due to a reckless, negligent driver may be entitled to punitive damages beyond their compensation.
Your personal injury lawyer can discuss this with you further.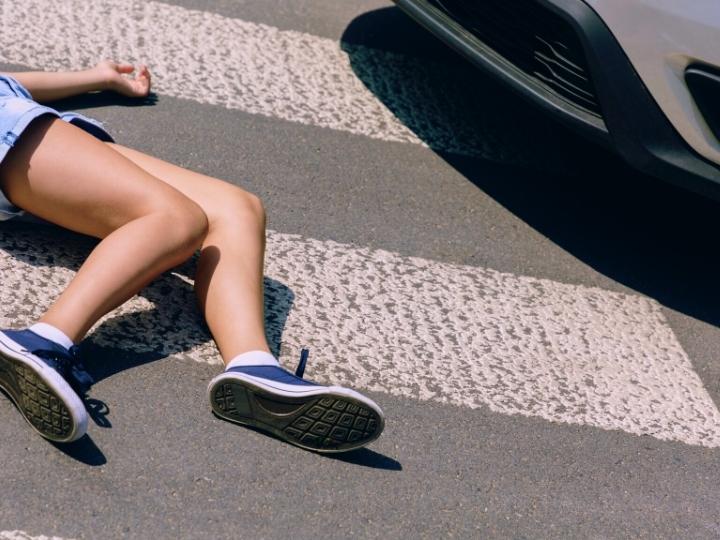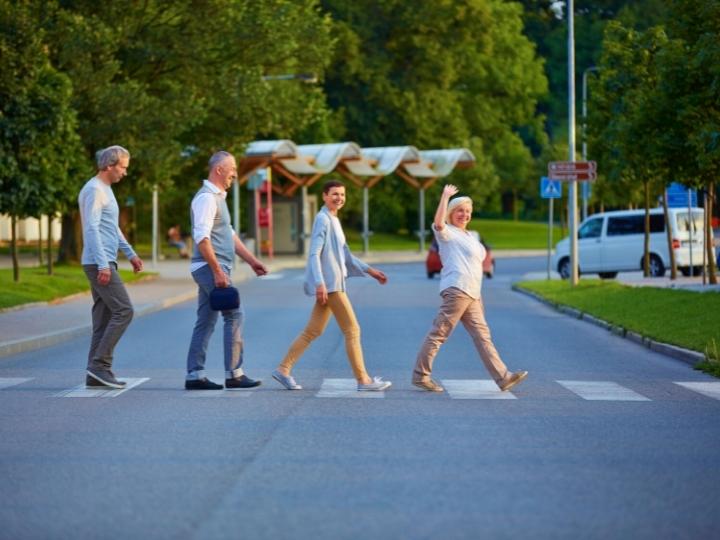 Who Is Liable for Pedestrian Accidents?
The legal term for responsibility is liability. Liability is the legal and financial obligation to pay for a pedestrian victim's damages.
In a pedestrian accident, the accident victim may sustain both economic and non-economic losses.
Economic Losses: Compensation for verifiable financial losses such as past and future medical bills, loss of past and future income, costs for repairs or replacements, loss of the use of property, the economic value of household services, loss of business opportunities, and loss of employment.
Non-Economic Losses: Compensation for subjective, non-financial losses such as emotional distress, pain and suffering, loss of enjoyment of life, loss of companionship, and loss of consortium.
After a pedestrian accident, the injured party should contact a knowledgeable personal injury attorney to pursue financial compensation from the responsible party. The negligent driver who ran over the pedestrian will be held responsible for any losses.
In order to obtain just compensation, your pedestrian accident lawyers can help you put together a case against the driver or another party based on the available evidence.
Here's who can be held liable in personal injury claims after a pedestrian accident:
Driver: Motor vehicle accidents involving pedestrians frequently result from speeding, failure to yield the right-of-way, texting while driving, and drunk driving. Damages are the responsibility of the at-fault driver and their auto insurance provider.
City: It's possible that the city where the accident happened is to blame for poor sidewalks, an unmarked crosswalk, or faulty street lights. The city administration would be held accountable if it had the duty to identify the risk and address it prior to the collision.
Company: If an employee of UPS, USPS, Uber, Lyft, or another business strikes a pedestrian while on the job, their employer may be held responsible. Employers may be held vicariously liable for their workers' errors.
To hold a driver or other person accountable, a thorough investigation from a seasoned legal team may be necessary.
You can create a case to seek fair compensation for damages, such as medical bills, with the aid of a pedestrian accident law firm by gathering information and obtaining copies of police reports.
Determining Fault in a Pedestrian Accident Claim
Emergency personnel on the scene will compile a police report, including collected evidence. Your pedestrian accident lawyers will use all evidence to determine who is at fault.
To ensure you are able to prove fault in your accident case, follow these four steps:
Get Medical Treatment: Ambulance care is provided on-site in a lot of pedestrian incidents. Don't turn down medical care. As soon as you can, see an accident doctor if you don't require immediate care. Medical records are crucial for your accident claim. 
Get Information On Everyone Involved: Get the insurance company information and contact information from the responsible parties.
Take Accident Scene Photographs: Visual evidence of the accident scene, your injuries, and other damages can help your case.
Contact The Brown Firm: Before speaking with a pedestrian accident lawyer, hold off on sharing your side of the story. Unfortunately, some people will attempt to misinterpret what you say in order to avoid being held accountable for your financial losses. Particularly watch out for attempts by insurance companies to downplay your pedestrian accident claim.
Preventing Common Injuries
There are preventative measures you can take as a pedestrian to protect yourself against negligent motor vehicle drivers:
Increase your visibility by wearing reflective gear and carrying a flashlight at night.
Walk on sidewalks or paths and use shoulder-facing traffic if there isn't a safe walking space.
Cross at designated areas if possible. Marked areas are where cars are more mindful of pedestrians.
Only cross when you can clearly see both ways to ensure no car is coming. If you cannot see them, they most likely won't be able to see you.
Our Pedestrian Accident Lawyers Can Help!
If you or a loved one has suffered a pedestrian injury, schedule a free consultation with The Brown Firm's skilled accident lawyers.
Get the best legal representation for pedestrian injuries and medical bills and protection of your pedestrian rights.
Our skilled pedestrian accident lawyers fight to ensure that those who have been injured in a personal injury accident receive the attention they require.
We are here to help you with everything from your case review to sorting through medical expenses to responding to inquiries regarding property damage.
Call our pedestrian accident attorneys right away to ensure you get your deserved compensation. 
If you or a loved one were injured and need help, our skilled personal injury attorneys will be at your side every step of the way.
Ready to Talk to a Georgia Lawyer Who Has Your Back?
Communities Our Pedestrian Accident Attorneys Serve Throughout Georgia
Acworth
Albany
Alpharetta
Americus
Athens
Atlanta
Auburn
Augusta
Austell
Bainbridge
Barnesville
Belvedere Park
Braselton
Bremen
Brookhaven
Brunswick
Buford
Cairo
Calhoun
Candler-McAfee
Canton
Carrollton
Cartersville
Cedartown
Centerville
Chamblee
Clarkston
College Park
Columbus
Commerce
Conley
Conyers
Cordele
Country Club Estates
Covington
Cumming
Cusseta
Dacula
Dahlonega
Dallas
Dalton
Decatur
Dock Junction
Doraville
Douglas
Douglasville
Druid Hills
Dublin
Duluth
Dunwoody
East Point
Eatonton
Evans
Fair Oaks
Fairburn
Fairview
Fayetteville
Fitzgerald
Flowery Branch
Forest Park
Fort Oglethorpe
Fort Valley
Gainesville
Garden City
Georgetown
Gresham Park
Griffin
Grovetown
Hampton
Hapeville
Hinesville
Holly Springs
Irondale
Jefferson
Jesup
Johns Creek
Kennesaw
Kingsland
LaFayette
LaGrange
Lawrenceville
Lilburn
Lithia Springs
Locust Grove
Loganville
Lovejoy
Mableton
Macon
Marietta
Martinez
McDonough
McRae-Helena
Milledgeville
Milton
Monroe
Morrow
Moultrie
Mountain Park
Newnan
Norcross
North Decatur
North Druid Hills
Panthersville
Peachtree City
Peachtree Corners
Perry
Pooler
Port Wentworth
Powder Springs
Redan
Richmond Hill
Rincon
Riverdale
Rome
Roswell
Sandy Springs
Savannah
Scottdale
Skidaway Island
Smyrna
Snellville
South Fulton
St Marys
St Simons
Statesboro
Stockbridge
Stone Mountain
Stonecrest
Sugar Hill
Suwanee
Swainsboro
Sylvester
Thomaston
Thomasville
Thomson
Tifton
Toccoa
Tucker
Tyrone
Union City
Valdosta
Vidalia
Villa Rica
Vinings
Warner Robins
Waycross
Whitemarsh Island
Wilmington Island
Winder
Woodstock
Contact The Brown Firm
Get the Answers and Compensation You Deserve
You'll notice the difference when you contact The Brown Firm! Our local dedicated attorneys want to help you recover and rebuild.
Schedule your free consultation by calling (800) 529-1441 or completing our simple online form.