Paulding County, GA – APD Lieutenant Crashes SUV
Paulding County, Georgia (March 21, 2023) – Over the weekend, an Atlanta Police Department lieutenant was arrested for DUI after a single-vehicle crash near Macland Road and Mount Tabor Church Road in Paulding County.
According to a press release, a Georgia State Patrol trooper determined that a black Nissan Xterra was traveling east on Macland Road around midnight on March 19 when it left the road and struck a stop sign and a Paulding County Department of Transportation sign.
While speaking with the driver, the trooper allegedly detected alcohol on the driver's breath. The driver admitted to drinking wine about 4 hours before the crash. Inside the vehicle, the trooper noticed Atlanta Police Department gear and an open can of Modelo beer.
The driver was taken to Paulding WellStar Hospital for medical treatment. The driver stated that he was an APD officer while at the hospital. His eyes were bloodshot and watery, and his speech was slurred, according to the trooper. The trooper attempted the Horizontal Gaze Nystagmus Test four times but the driver was unable to follow directions.
The driver gave a breath sample for testing, which revealed that he had consumed alcohol, and was read the implied consent notice for a blood test. He agreed to the blood test, but when the trooper went to his car to get a blood draw kit, he fled into the nearby woods.
The trooper asked the Paulding County Sheriff's Office and Cobb County's K-9 unit for assistance in locating the police lieutenant. They found him at a RaceTrac gas station near the hospital at 5:33 a.m. He was arrested and taken to the Paulding County Sheriff's Office to be booked into their jail.
When APD commanders learned of the arrest, they launched an internal investigation and placed him on "non-enforcement status."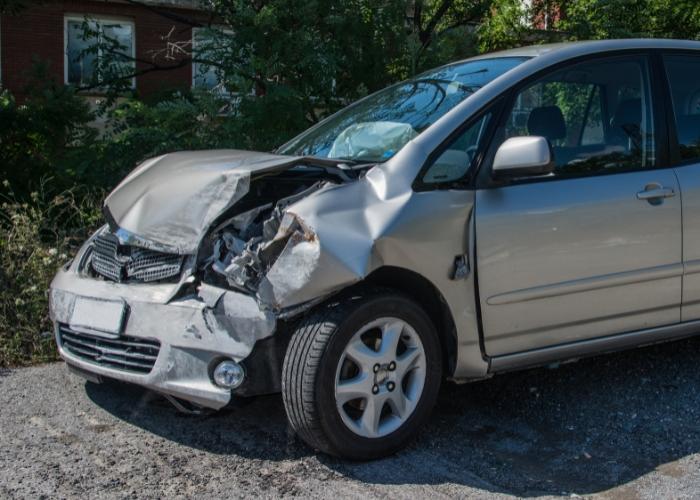 I met with Harry Brown personally and he sat with me for 20 minutes at our initial consultation to explain everything. He even called after my surgery to see how I was doing. I met with him several more times after that and was kept informed about my case throughout. I highly recommend Harry Brown as an attorney.
Single Vehicle Accidents in Georgia 
Single-vehicle accidents occur when only one vehicle and one driver are involved. In most cases, a single-car accident occurs when the vehicle collides with another object or is pushed off the road.
Even if no other vehicles were involved in the collision, a single-car accident can be extremely dangerous and even fatal.
Single-vehicle collisions raise a number of legal concerns. Even when only one vehicle is involved in an accident, it can sometimes be difficult to determine who was at fault.
There is a chance that the accident was caused by someone else's carelessness. Consider the following:
-Poor road conditions can make it difficult for drivers to keep control of their vehicles, increasing the likelihood of a collision. Defects include potholes, seams, and construction debris left on the road. If you were involved in an accident caused by poor road conditions, the person or organization responsible for the problem could face legal consequences.
-Even if another driver's car did not collide with yours, they could be held responsible for the accident. If the other driver is negligent and causes your vehicle to go off the road, they may be held liable for any damages or injuries you sustain.
-When driving a car, mechanical issues can cause a variety of problems. When a car's brakes, steering columns, tires, wipers, and airbags fail to function properly, serious injuries can occur.
These are just a few of the numerous scenarios that can result in an accident involving a single vehicle in which the driver is not at fault.
The Brown Firm's knowledgeable and experienced Car Accident Attorneys will conduct a thorough investigation into all evidence and details pertaining to your accident.
If you were in a car accident and believe someone else was at fault, the first thing you should do is contact an experienced Personal Injury Lawyer for legal council.
Our firm has extensive experience representing clients who have been injured in single-vehicle accidents. We go to great lengths to ensure that victims receive the compensation they are due for their pain and suffering, as well as any medical expenses, lost wages, and vehicle damage.
Call us at (800) 529-1441 to set up a free consultation with one of our knowledgeable attorneys if you were involved in an accident that wasn't your fault.
Note: This post was built using information obtained from third parties, such as news articles and accounts provided by third parties with first-hand knowledge. The information on this accident has not been independently verified. If you discover any inaccuracies in the details, please let us know as soon as possible. We will modify the post so that it contains accurate information. 
Disclaimer: At The Brown Firm, we are continuously working to improve the quality and safety of our state and have been devastated by the consequence of many accidents. We seek to educate people in our community about these accidents in the hopes that it would encourage them to take precautions in the future to reduce the risk of major accidents. These posts should not be interpreted in any way that suggests that a business transaction is being sought. No part of this article should ever be considered professional advice in any field, including medicine or the law. We hope that those affected by these accidents will receive a rapid recovery.
Ready to Talk to a Lawyer Who Has Your Back?
Contact The Brown Firm
Get the Answers and Compensation You Deserve
You'll notice the difference when you contact The Brown Firm! Our local dedicated attorneys want to help you recover and rebuild.
Schedule your free consultation by calling (800) 529-1441 or completing our simple online form.