Macon, GA – Police Chase Over Multiple Counties Ends in Single-Vehicle Accident
Macon, Georgia (July 7, 2023) – After being pursued through multiple counties, a driver who was wanted for an armed robbery and carjacking in Bibb County is now facing a long list of new charges.
The Bibb County Sheriff's Office reports that on July 3rd, just before 9:00 p.m., deputies attempted to pull over a vehicle for traveling on Hawkinsville Road without any functioning headlights.
According to the deputies, the driver did not pull over when requested to do so by the authorities. Even worse, his vehicle skidded off Boy Scout Road in Byron, losing a front tire in the process and eventually colliding with a utility pole. Following a brief foot pursuit, the suspect was taken into custody by the deputies.
He is now being charged with: 
Fleeing or attempting to elude a police officer
Willful obstruction of law enforcement officers by use of threats or violence
Aggressive driving
Purchase, possess or have control of controlled substance in schedule I or narcotic in schedule II
Tampering with evidence
Additionally, he is wanted in Houston County for terroristic threats and simple battery family violence.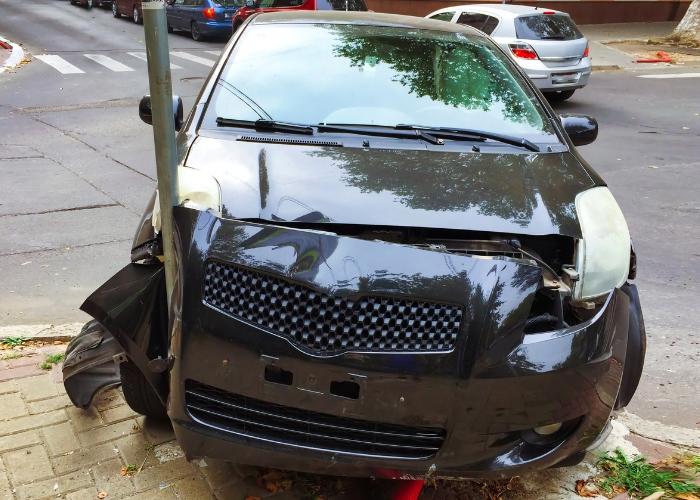 I met with Harry Brown personally and he sat with me for 20 minutes at our initial consultation to explain everything. He even called after my surgery to see how I was doing. I met with him several more times after that and was kept informed about my case throughout. I highly recommend Harry Brown as an attorney.
Single-Vehicle Accidents in Georgia
Accidents involving only one vehicle and one driver are referred to as "single-vehicle accidents." A collision with another vehicle or object or being forced off the road are the most common causes of accidents involving a single vehicle.
Even if there are no other vehicles present, being involved in a collision with just one other vehicle can be extremely hazardous and even fatal.
In single-vehicle collisions, numerous legal issues arise. Even when there is only one vehicle involved in an accident, it can be difficult to determine who is at fault for the collision.
Accidents involving a single vehicle can take place for any one of the following reasons:
-When traveling on poor roads, drivers may find it difficult to keep control of their vehicles, which increases the risk of being involved in an accident. Poor road conditions are exemplified by things like seams, potholes, and construction materials that have been abandoned on the ground. If the condition of the road contributed in any way to the accident that you were involved in, the party or parties responsible for the issue may be subject to legal consequences.
-Even if the other driver's vehicle did not make direct contact with yours during the accident, you may still be able to hold them responsible for it. If the other driver was careless and caused your car to veer off the road, they may be responsible for any injuries or damages that you sustain as a result of the accident. 
-Problems with the vehicle's mechanics can make driving a challenge. It is possible for the driver to be killed in the event that the car's airbags, brakes, steering columns, tires, or wipers fail to work properly. Serious injuries are possible outcomes when the functionality of people's vehicles is compromised.
These are just a few of the many different outcomes that could occur as a result of an accident involving a single vehicle in which the driver is not to blame.
When you hire a Personal Injury Attorney from The Brown Firm, we will conduct an exhaustive investigation into any and all information and evidence associated with your accident.
If you have reason to believe that the actions of another party contributed to the occurrence of your accident, don't hesitate to get in touch with our Single Vehicle Accident Attorneys right away. 
Our legal team frequently provides representation for injured parties who were involved in accidents involving a single vehicle. We make a significant amount of effort to guarantee that victims will be compensated for their pain and suffering, as well as for any associated medical expenses, lost wages, and property damage to their vehicles.
If you were involved in an accident with only one vehicle and believe that the other driver was at fault, please contact us as soon as possible at (800) 529-1441 to schedule a no-cost consultation with one of our experienced attorneys.
Note: This post was built using information obtained from third parties, such as news articles and accounts provided by third parties with first-hand knowledge. The information on this accident has not been independently verified. If you discover any inaccuracies in the details, please let us know as soon as possible. We will modify the post so that it contains accurate information. 
Disclaimer: At The Brown Firm, we are continuously working to improve the quality and safety of our state and have been devastated by the consequence of many accidents. We seek to educate people in our community about these accidents in the hopes that it would encourage them to take precautions in the future to reduce the risk of major accidents. These posts should not be interpreted in any way that suggests that a business transaction is being sought. No part of this article should ever be considered professional advice in any field, including medicine or the law. We hope that those affected by these accidents will receive a rapid recovery.
Ready to Talk to a Lawyer Who Has Your Back?
Contact The Brown Firm
Get the Answers and Compensation You Deserve
You'll notice the difference when you contact The Brown Firm! Our local dedicated attorneys want to help you recover and rebuild.
Schedule your free consultation by calling (800) 529-1441 or completing our simple online form.