Lyerly, GA – Three Georgia High School Football Players Killed When Vehicle Hits Driveway and Flips
Lyerly, GA (October 30, 2022) – Four people, including three high school football players, died early Sunday, October 30th, after a car rolled over in northwest Georgia.
The Georgia State Patrol says the crash happened just after midnight on Georgia 114 near Lyerly.
The Chattooga County Superintendent said three of the dead were students at Chattooga High School. The school's football team posted on social media that those three boys had all been football players. None of the victims were immediately named.
Troopers say a 2019 Audi RS5 veered off a curve onto a grass shoulder, hit a private driveway, flipped, then came to rest upright.
The driver and two passengers died before they could be taken to a hospital. A male passenger was pronounced dead at a Rome hospital, while a female passenger was hospitalized in Rome in critical condition.
It's unclear why the vehicle left the road. Troopers are reconstructing the accident as part of their investigation.
The school said counselors will be available to students and employees.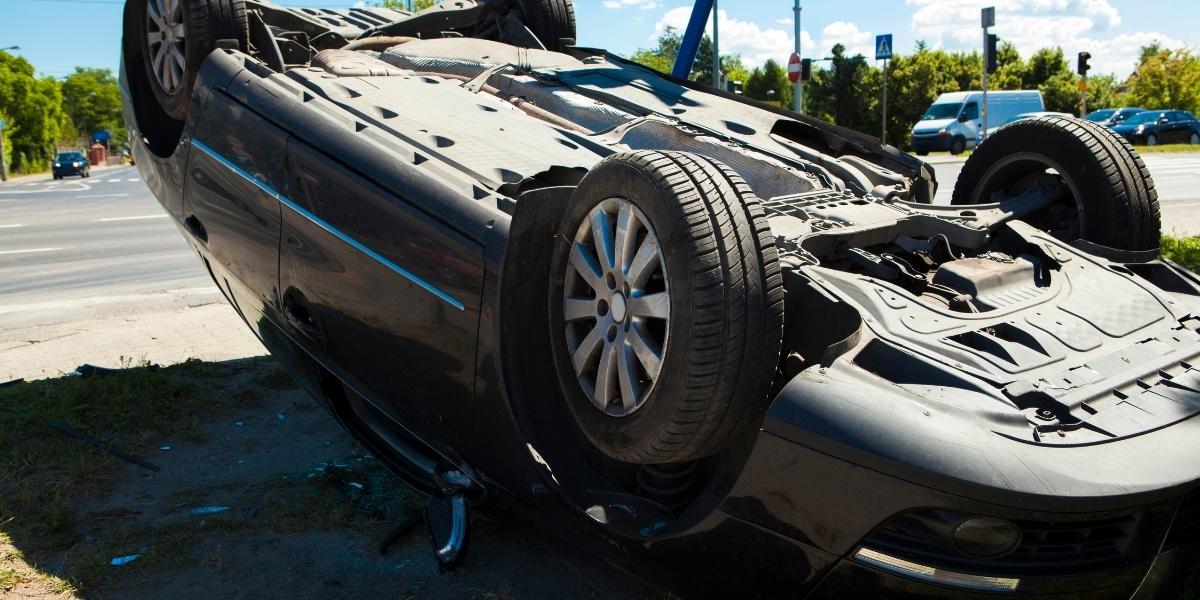 I met with Harry Brown personally and he sat with me for 20 minutes at our initial consultation to explain everything. He even called after my surgery to see how I was doing. I met with him several more times after that and was kept informed about my case throughout. I highly recommend Harry Brown as an attorney.
Single Car Accident in Georgia
Accidents involving only one vehicle and one driver are referred to as "single-car accidents." In the majority of cases, a single-car accident happens when the vehicle is involved in a collision with another object or is pushed off the road.
An accident that only involves one car can still be extremely dangerous and even fatal despite the fact that there was no other vehicle involved.
Single-vehicle collisions present various legal difficulties. Even when there was only one vehicle involved in the accident, it is not always easy to determine who was at fault for the collision.
There is a possibility that the accident happened as a result of the carelessness of another person. For instance:
-A flaw in the pavement may make it difficult for drivers to maintain control of their vehicles, which may increase the risk of collisions. Defects can take the form of potholes, seams, and debris that has been abandoned on the road. It is possible that the person responsible for the bad road conditions could be held liable for the accident. 
-Even though there was no other vehicle involved in the accident, it is still possible that another driver was at fault for the collision. If another driver is careless with their driving, it is possible that they will force another vehicle off the road. The possibility exists that the other driver was at fault for the accident, despite the fact that the vehicles might not have actually collided.
-It is possible that driving a vehicle with components that aren't functioning properly could be hazardous. If your vehicle has problems with the brakes, steering column, tires, wipers, or airbags, you could be put in a dangerous situation that leads to an accident. Drivers and passengers can sustain serious injuries if their vehicles do not perform as they were designed to.
These are just some of the circumstances that can make it so the driver of a single vehicle is not necessarily to blame for an accident that involves only their vehicle.
If you were involved in a Single Vehicle Accident and believe it was the result of another party's negligence, don't hesitate to contact us at The Brown Firm for a free consultation. 
Our team of Car Accident Attorneys have many years of experience representing accident victims. During your consultation, we will determine if you have a case and how we can best assist with the recovery of your losses. 
Call us at (800) 529-1441 to schedule a free consultation today. 
Note: This post was built using information obtained from third parties, such as news articles and accounts provided by third parties with first-hand knowledge. The information on this accident has not been independently verified. If you discover any inaccuracies in the details, please let us know as soon as possible. We will modify the post so that it contains accurate information. 
Disclaimer: At The Brown Firm, we are continuously working to improve the quality and safety of our state and have been devastated by the consequence of many accidents. We seek to educate people in our community about these accidents in the hopes that it would encourage them to take precautions in the future to reduce the risk of major accidents. These posts should not be interpreted in any way that suggests that a business transaction is being sought. No part of this article should ever be considered professional advice in any field, including medicine or the law. We hope that those affected by these accidents will receive a rapid recovery.
Ready to Talk to a Lawyer Who Has Your Back?
Contact The Brown Firm
Get the Answers and Compensation You Deserve
You'll notice the difference when you contact The Brown Firm! Our local dedicated attorneys want to help you recover and rebuild.
Schedule your free consultation by calling (800) 529-1441 or completing our simple online form.