Emanuel County, GA – Adult and Child Ejected From Vehicle After Accident
Emanuel County, GA (December 30, 2022) – A spokesperson for Georgia State Patrol Troop 19, which is based out of Swainsboro, stated that a vehicle accident involving 2 adults and a 3-year-old boy resulted in the male passenger and the child being ejected from the vehicle. 
According to authorities, Georgia State Patrol was called to the scene of a crash involving a single vehicle that occurred at 11:45 p.m. along Highway 57 West.
The preliminary account of the crash stated that the vehicle, which was carrying a male passenger, a small child, and a female driver, missed a curve in the road and swerved onto the shoulder at high speed. They then drove completely off the road.
The vehicle traveled approximately 450 feet off the side of the road before coming to an uncontrolled stop after rolling over at least once.
Authorities stated that the child and male adult were conscious at the scene, while the female driver did not respond to first responders' verbal instructions and was placed on oxygen.
According to Georgia State Patrol all three of the victims were rushed by Life Flight to Memorial Health University Medical Center in Savannah, Georgia.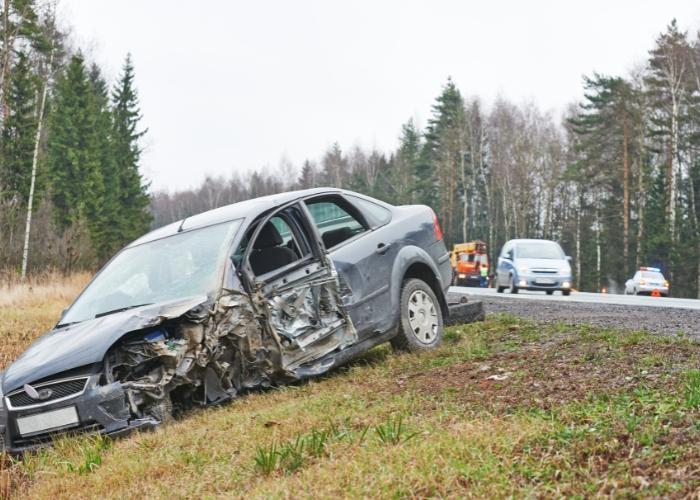 I met with Harry Brown personally and he sat with me for 20 minutes at our initial consultation to explain everything. He even called after my surgery to see how I was doing. I met with him several more times after that and was kept informed about my case throughout. I highly recommend Harry Brown as an attorney.
Single Vehicle Accidents in Georgia
Accidents involving only one vehicle and one driver are referred to as "single-vehicle accidents." In the vast majority of instances, a single-car accident takes place when the vehicle is involved in a collision with another object or is pushed off the road.
Even though there were no other vehicles involved in the accident, a collision involving just one vehicle can still be extremely hazardous and even result in death.
Collisions involving only one vehicle can raise a wide range of legal concerns. Even when there is only one vehicle involved in an accident, it can still be difficult to determine who was at fault for the crash. 
There is a possibility that the accident was the result of carelessness on the part of another individual. Take into account the following:
-When the road conditions are poor, it can be challenging for drivers to keep control of their vehicles, which can increase the likelihood of a collision occurring. Defects can include things like potholes, seams, and construction debris that has been left on the road. If you were injured in an accident that was caused by hazardous road conditions, the person or organization that was responsible for the problem may be held liable for your injuries.
-It is possible that the another driver will be held responsible for the accident, even if their vehicle did not make contact with yours. If the other driver is careless and causes your vehicle to go off the road, they may be liable for any injuries and damages you sustain as a result of the accident.
-Problems with the car's mechanics can result in a wide range of problems for the driver. If the brakes, steering columns, tires, wipers, and airbags in a car fail to operate as they should, the driver could be seriously injured or killed. It's possible for people to sustain life-threatening injuries when their vehicles break down.
These are just some of the many different scenarios that can lead to an accident involving a single vehicle in which the driver is not to blame for the collision. 
If you were involved in a single-vehicle accident, it's always in your best interest to contact an experienced Car Accident Lawyer to find out if you're eligible to receive compensation for your losses. 
At The Brow Firm, we have an experienced team of Personal Injury Lawyers who have experience handling all different types of car accidents. 
You can call us today at  (800) 529-1441, to schedule a free consultation if you were involved in a single-vehicle accident and believe it was caused by someone else's careless actions. 
Note: This post was built using information obtained from third parties, such as news articles and accounts provided by third parties with first-hand knowledge. The information on this accident has not been independently verified. If you discover any inaccuracies in the details, please let us know as soon as possible. We will modify the post so that it contains accurate information. 
Disclaimer: At The Brown Firm, we are continuously working to improve the quality and safety of our state and have been devastated by the consequence of many accidents. We seek to educate people in our community about these accidents in the hopes that it would encourage them to take precautions in the future to reduce the risk of major accidents. These posts should not be interpreted in any way that suggests that a business transaction is being sought. No part of this article should ever be considered professional advice in any field, including medicine or the law. We hope that those affected by these accidents will receive a rapid recovery.
Ready to Talk to a Lawyer Who Has Your Back?
Contact The Brown Firm
Get the Answers and Compensation You Deserve
You'll notice the difference when you contact The Brown Firm! Our local dedicated attorneys want to help you recover and rebuild.
Schedule your free consultation by calling (800) 529-1441 or completing our simple online form.