Dunwoody, GA – A Bus On Fire On I-285 Causes Ramp Closure
Dunwoody, GA (August 28, 2023) – On Friday night at Ashford Dunwoody Road and I-285 West, a tour bus caught fire, resulting in delays during Friday rush hour. 
According to Dunwoody Police, the westbound Ashford Dunwoody ramp was closed. 
According to officials, nobody was hurt, and the driver was the only one inside when the bus caught fire. Firefighters from DeKalb County were able to put out the fire, and cleanup efforts are currently underway. 
Firefighters could be seen covering the bus with water. The back end of the bus appeared to have been burned by the flames.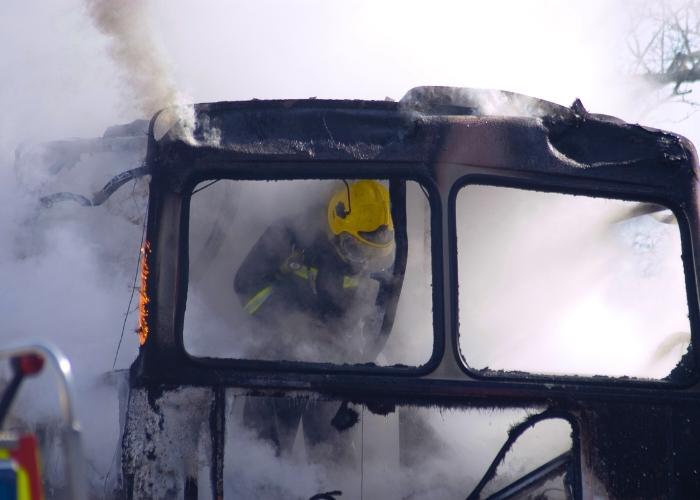 I met with Harry Brown personally and he sat with me for 20 minutes at our initial consultation to explain everything. He even called after my surgery to see how I was doing. I met with him several more times after that and was kept informed about my case throughout. I highly recommend Harry Brown as an attorney.
Injured At Work?
A workplace injury can range from minor cuts that heal in a few days to significant brain injuries that may never fully recover and require lifelong medical care. It may be crucial for you and your dependents to secure enough money to meet your needs.
Worker's compensation law is confusing, and injured workers face a complex process. Someone injured at work may have to deal with the denial of workers' comp claims, low settlement offers, and delayed payments, even when employers have workers' compensation insurance with a reputable insurance company. They also need to act fast because there is a deadline to file all personal injury claims.
Contact a personal injury lawyer at The Brown Firm to review your case, protect your rights, and get you the compensation you deserve.
If you or a loved one are suffering from a work-related injury, contact a personal injury lawyer at The Brown Firm to review your case and protect your rights. Our skilled personal injury lawyers will be at your side every step of the way.
Call (800) 529-1441 for a free consultation with a workers' compensation attorney today!
Note: This post was built using information obtained from third parties, such as news articles and accounts provided by third parties with first-hand knowledge. The information on this accident has not been independently verified. If you discover any inaccuracies in the details, please let us know as soon as possible. We will modify the post so that it contains accurate information.
Disclaimer: At The Brown Firm, we are continuously working to improve the quality and safety of our state and have been devastated by the effects of many accidents. We seek to educate people in our community about these accidents in the hopes that it would encourage them to take precautions in the future to reduce the risk of major accidents. These posts should not be interpreted in any way that suggests that a business transaction is being sought. No part of this article should ever be considered professional advice in any field, including medicine or the law. We hope that those affected by these accidents will receive a rapid recovery.
Ready to Talk to a Lawyer Who Has Your Back?
Contact The Brown Firm
Get the Answers and Compensation You Deserve
You'll notice the difference when you contact The Brown Firm! Our local dedicated attorneys want to help you recover and rebuild.
Schedule your free consultation by calling (800) 529-1441 or completing our simple online form.