Douglas County, GA – Westbound I-20 Closed Due To A Fatal Crash
Douglas County, GA (August 24, 2023) – In Douglas County, a tractor-trailer truck accident on Interstate 20 has resulted in at least one fatality.
According to the Georgia Department of Transportation, the collision happened right before Lee Road, which is exit 41, on I-20.
Crews were working to remove an overturned tractor-trailer truck that had spilled diesel on the highway.
The early morning accident had closed all of Interstate 20's westbound lanes, and emergency personnel were working to clear the road as quickly as they could.
The person who died in the crash has not been named by authorities, nor have they disclosed information about what caused the horrific accident.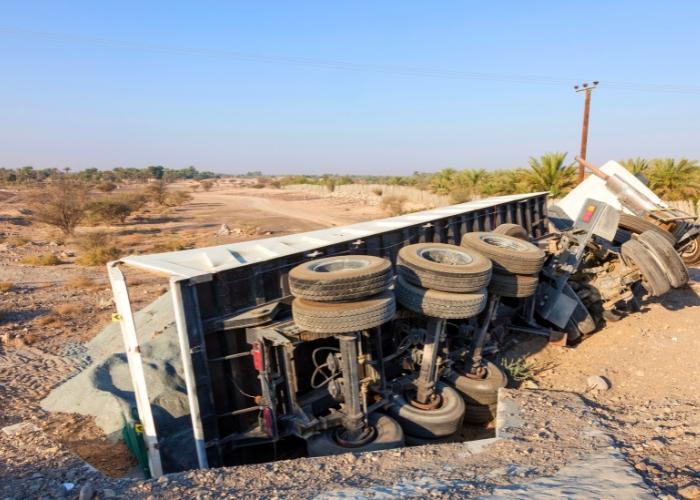 I met with Harry Brown personally and he sat with me for 20 minutes at our initial consultation to explain everything. He even called after my surgery to see how I was doing. I met with him several more times after that and was kept informed about my case throughout. I highly recommend Harry Brown as an attorney.
Semi-Truck Accidents in Georgia
Accidents involving semi-trucks can result in catastrophic injury and trauma due to the sheer size and weight of these vehicles. 
If you or someone you care about was in an accident involving a semi-truck or commercial truck, you need to get in contact with an experienced Truck Accident Attorney to help with your claim.
Truck accidents are complicated. Drivers, the trucking company, the company who loaded the freight, or the truck or tire manufacturers could be to blame. If a truck veered into your lane, did the driver nod off, or did the steering malfunction? Was the driver tired because of drugs, alcohol, or having to work too many hours? Did a truck part fail because of a problem with the way it was made or because it wasn't maintained?
How do you figure out how much the accident will cost you in future medical bills and lost wages if there are so many parties that could be at fault?
Truck accident lawyers are great at getting to the bottom of these issues. Without an accident lawyer, it's hard to figure out how the system works and how to get the best settlement to recover your losses
Ready to Talk to a Lawyer Who Has Your Back?
Contact The Brown Firm
Get the Answers and Compensation You Deserve
You'll notice the difference when you contact The Brown Firm! Our local dedicated attorneys want to help you recover and rebuild.
Schedule your free consultation by calling (800) 529-1441 or completing our simple online form.