Dekalb County, GA – Driver Crashes Through Power Pole During High-Speed Chase
Dekalb County, Georgia (February 10, 2023) – According to the Georgia State Patrol, the driver of a vehicle linked to multiple car break-ins led police on a high-speed chase that ended in a fiery and destructive crash in DeKalb County.
Around 6:30 p.m. Friday, SKYFOX 5 flew over the scene of Rockbridge Road SW and S. Deshon Road and saw the intersection completely blocked as crews worked to clean everything up. The car that the troopers were chasing appeared to have smashed through a telephone pole. It came to a halt in front of the QuikTrip gas station, on its side.
According to Georgia Power, the crash brought down the traffic lights at the intersection and knocked out power to about 100 customers in the area. When a power line fell across the street in front of the McDonald's, it started a grass fire.
There was at least one other vehicle involved. The front end was severely damaged.
It was unclear how many vehicles were involved in the crash or the extent of any injuries, but medics were seen treating one person at the scene.
According to witnesses, the car was speeding east on Rockbridge Road when it lost control coming down the hill and crashed at the intersection of S. Deshon Road.
The nearly 12-mile high-speed chase began at Stonecrest Mall. According to the trooper, they saw the vehicle leaving and were able to confirm that suspects wanted for multiple car break-ins were inside. That is when troopers pulled over the vehicle.
The four occupants were being handcuffed when the driver allegedly ran back to the car and fled the scene.
Troopers gave chase to the driver, who eventually lost control of his vehicle and collided with the utility pole.
After the collision, the driver was taken into custody by the authorities.
The identities of the four suspects, as well as the specific charges against them, have not yet been made public.
Both the crash and the car break-ins are still under investigation.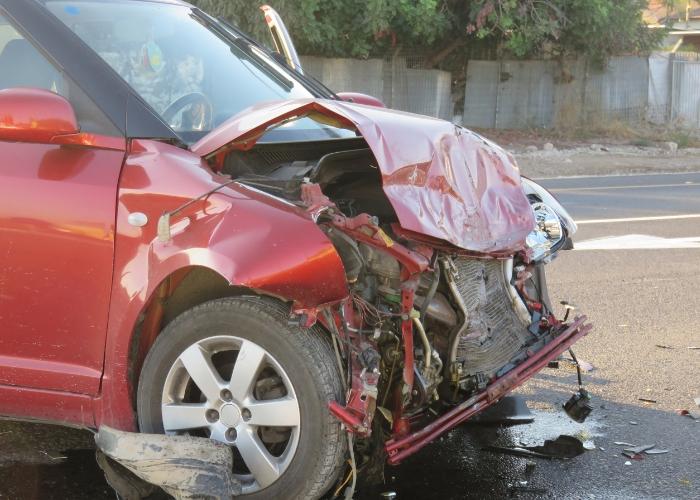 I met with Harry Brown personally and he sat with me for 20 minutes at our initial consultation to explain everything. He even called after my surgery to see how I was doing. I met with him several more times after that and was kept informed about my case throughout. I highly recommend Harry Brown as an attorney.
Car Accidents in Georgia
Most people try their best to steer clear of being involved in a motor vehicle accident. Unfortunately, even some of the very best drivers end up becoming the victims in an auto accident. 
An automobile collision has the potential to completely transform a person's life and lead them in a variety of unexpected directions. The emotional and physical aftereffects of a car crash can be very challenging to manage if you do not have the help of an experienced attorney. 
If you were involved in a car accident that was not your fault, you have the legal right to seek compensation for any expenses that you incurred as a direct result of the accident, including medical bills, lost wages, and property damage. 
It can be difficult to handle an accident claim on your own without the assistance of an experienced Dekalb County Car Accident Lawyer.
When you contact the Brown Firm, we will connect you with a qualified Personal Injury Attorney who will handle the insurance company and your claim, allowing you to focus on your recovery.
Our attorneys have years of experience representing clients injured in car accidents. Our experience has equipped us with the knowledge needed to assist our clients in obtaining the maximum amount of compensation for the harm they have endured.
At The Brown Firm, we go out of our way to give your case the time and attention it deserves.
If you were injured in a car accident that was not your fault, call us right away at (800) 529-1441 so that we can schedule you for a free consultation with one of our experienced Car Accident Attorneys.
Note: This post was built using information obtained from third parties, such as news articles and accounts provided by third parties with first-hand knowledge. The information on this accident has not been independently verified. If you discover any inaccuracies in the details, please let us know as soon as possible. We will modify the post so that it contains accurate information. 
Disclaimer: At The Brown Firm, we are continuously working to improve the quality and safety of our state and have been devastated by the consequence of many accidents. We seek to educate people in our community about these accidents in the hopes that it would encourage them to take precautions in the future to reduce the risk of major accidents. These posts should not be interpreted in any way that suggests that a business transaction is being sought. No part of this article should ever be considered professional advice in any field, including medicine or the law. We hope that those affected by these accidents will receive a rapid recovery.
Ready to Talk to a Lawyer Who Has Your Back?
Contact The Brown Firm
Get the Answers and Compensation You Deserve
You'll notice the difference when you contact The Brown Firm! Our local dedicated attorneys want to help you recover and rebuild.
Schedule your free consultation by calling (800) 529-1441 or completing our simple online form.