Cartersville, GA – One Person Seriously Injured in 4-Vehicle Accident
Cartersville, GA (November 21, 2022) – Early on Sunday morning, a collision involving four vehicles occurred on Interstate 75 northbound close to Cartersville, Georgia. The incident caused traffic to be stopped for approximately one hour and forty-five minutes.
According to the Georgia State Patrol, officers from Post 3 Cartersville responded to the accident in Bartow County at 5:05 a.m., which occurred close to mile marker 297.
A Jaguar F-Type was traveling north on Interstate 75 when a vehicle merged into their lane, according to the driver. The driver swerved to avoid a collision but lost control of the Jaguar.
The Jaguar collided with a guardrail before re-entering the roadway, where it was hit by a Ford 500 traveling north on Interstate 75.
Following the second impact, a Hyundai Sonata traveling north on Interstate 75 collided with the Jaguar.
To avoid a collision with the other vehicles, a Chevrolet Monte Carlo veered off the road and rolled over, striking a tree. A passenger in the Chevrolet Monte Carlo was airlifted to Kennestone Hospital for treatment of a possible broken neck.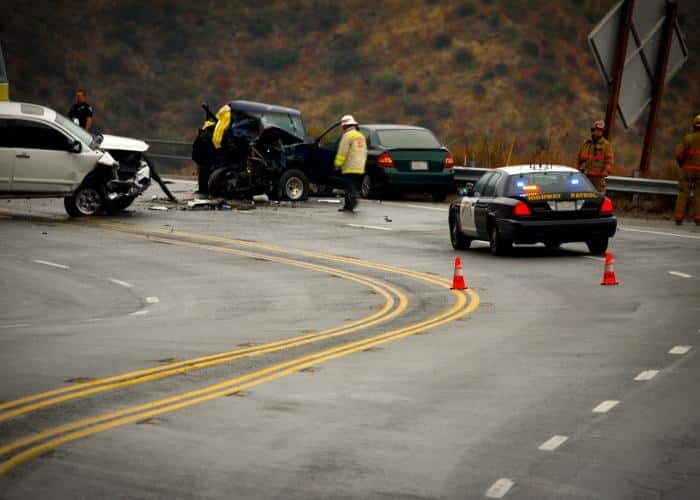 I met with Harry Brown personally and he sat with me for 20 minutes at our initial consultation to explain everything. He even called after my surgery to see how I was doing. I met with him several more times after that and was kept informed about my case throughout. I highly recommend Harry Brown as an attorney.
Multi-Vehicle Accidents in Georgia
Chain reaction accidents are the common name given to collisions involving multiple vehicles. They frequently take place on highways and other high-speed roads as a result of one or more drivers making a mistake or following another vehicle too closely. When one car collides with another, it sets off a chain reaction that can result in a very dangerous accident that frequently results in a pileup of vehicles. These collisions can make it difficult to determine which party or parties are at fault for the accident.
On Georgia's highways, chain reaction accidents involving multiple vehicles are fairly common because the state's population is expanding, and more people are buying cars.
When it comes to multi-vehicle accidents, for the most part, the same laws apply as they do for regular car accidents.
The added drivers, businesses, and the individual lawyers that represent them are what cause the processes to vary to such a great extent.
Any time you're involved in a multi-vehicle accident, it's in your best interest to hire an experienced Car Accident Attorney in Cartersville, GA, for legal help. 
Determining who is at fault in a multi-vehicle accident is not always easy. Insurance companies will do whatever they can to place blame on someone else and make it as difficult as possible for you to receive any compensation. 
With the help of a Personal Injury Attorney from The Brown Firm, you can rest assured that your case will be handled with great care. 
For more details on how an attorney can help after a Multi-Vehicle Accident, contact us at (800) 529-1441 to schedule a free consultation. 
Note: This post was built using information obtained from third parties, such as news articles and accounts provided by third parties with first-hand knowledge. The information on this accident has not been independently verified. If you discover any inaccuracies in the details, please let us know as soon as possible. We will modify the post so that it contains accurate information. 
Disclaimer: At The Brown Firm, we are continuously working to improve the quality and safety of our state and have been devastated by the consequence of many accidents. We seek to educate people in our community about these accidents in the hopes that it would encourage them to take precautions in the future to reduce the risk of major accidents. These posts should not be interpreted in any way that suggests that a business transaction is being sought. No part of this article should ever be considered professional advice in any field, including medicine or the law. We hope that those affected by these accidents will receive a rapid recovery.
Ready to Talk to a Lawyer Who Has Your Back?
Contact The Brown Firm
Get the Answers and Compensation You Deserve
You'll notice the difference when you contact The Brown Firm! Our local dedicated attorneys want to help you recover and rebuild.
Schedule your free consultation by calling (800) 529-1441 or completing our simple online form.